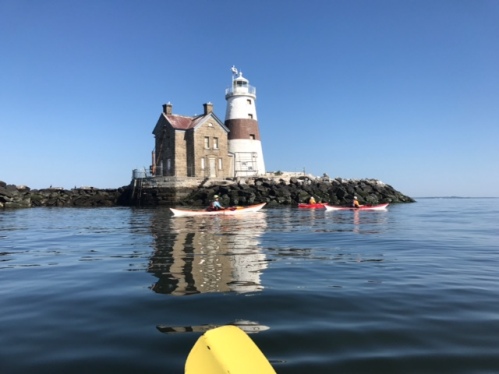 Orchard Beach
by Betty Wiest
Sunday, September 24, 2017
This could not have been the most perfect, sunny day on the water in the Long Island Sound. The water was so very calm that it was exciting when a motorboat went by to create a gentle rolling swell.
We paddled out of the Orchard Beach parking lot's far corner, just a short walk to the body of water. It was low tide. We paddled past land called Hunter Island down the channel towards Glen Island Park, Huguenot Yacht Club, and the hundreds of yachts and motorboats, and underneath the Glen Island Approach bridge between Neptune Island and Glen Island which opened for a sailboat. Fun to see! We hung a right, paddled between several smaller rock islands out towards the lighthouse at Execution Rocks (Google it…..interesting read).
Lots of opportunity for pictures (thought my camera was loaded with a memory card, but alas there was none and discovered this when I got home). Thanks to Manfred and George for their pics.
On our return paddle past Pea Island and Columbia Island (forbidden to land on), a very accomplished paddler approached and started a conversation. He was quite familiar with the area and joined us as we took a break on the beach of David's Island. We were told to avoid Hart Island where Potter's Field is located so we continued on back to the launch. The tide had changed so there was little beach left…but enough for two or three boats to land at a time.
Boats were loaded back on our vehicles followed by sweet treats complimentary of Manfred. Always a nice way to end the paddle.
Paddlers included George and Christine, Mira and Michael, Michael R., Manfred, and me.
Betty