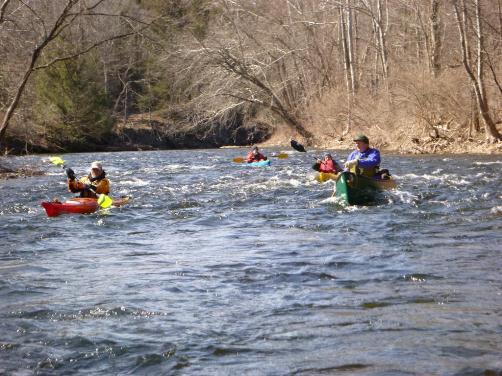 Shepaug River
by Bob Rancan
Saturday, April 7, 2018...
Take your own advice. That should be the lesson. I always tell people;"if you're watching the weather, you're not going paddling."
But then, the NWS forecast came up with an 80% chance of snow/rain mix for Friday into Saturday: predicted accumulation of 2 -4" by my house, 3-6" for western Bergen and although less for northwestern Connecticut, NOT a day for paddling. As Friday dawned only a little cold rain fell and by afternoon, while working outside I was overdressed for the 60 degree sunshine. Checking the forecast again that afternoon there was still some nasty weather expected Saturday and sunny but windy for Sunday. Sunday seemed the better bet but would have meant losing a participant or two. Between 5 + 6 PM I remembered I should stick to my guns and keep the Saturday plan going. In the confusion, I still wound up losing a paddler...sorry about that.
In conclusion: Beautiful day - no problems with precipitation or snowy roads - cold with some wind at the meet up but sunshine, blue skies the rest of the day. Often, this can be a shallow, rocky run. The rocks were still there but the water level was fine...3.08, 149cfs coming off Peter's Dam at the Shepaug Reservoir augmented with plenty of extra flow from the Bantam and other tributaries. Many, many phoebes were spotted on the banks. I suspect these may have been arriving males, competing for the females that had already set up their territories. I had a close look at a shy winter wren and common merganser pairs and belted kingfishers were in abundance.
Thanks to AL, Mark Jim and Alex for their patience and Al for the great photos.
Bob