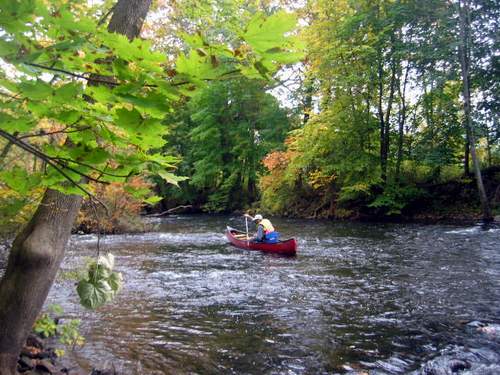 Drums Along The Musconetcong
by Bob Rancan
October 4, 11 and 13, 2008
I was looking forward to the 2008 fall draw down of Lake Hopatcong. Since it would be the fifth year drop of 60 inches of the Lake's elevation it would begin in September rather than late in the fall. Well it didn't rain much this summer and the Lake level was lower than expected. Except for the runoff from Hurricane Hannah's rain in early September, the anticipated strong flows into the Musconetcong River never materialized.
Regardless, I had three warm weather paddles scheduled for the Club and I wasn't going to cancel. I confess I did switch the September 28th trip over to the South Branch of the Raritan but I rescheduled when things looked a little better the next week, October 4th. On a cool day with some early showers 15 of us paddled from Hampton to Bloomsbury at a decent level (2.01 at the Bloomsbury gauge). Ten boats, including 5 tandem canoes and a fancy sit-on-top made the trip.
The Plan was to cover two upriver sections on Columbus Day weekend. All my notes, the Watershed Association's map and Ed Gertler's reference book agreed that there wasn't enough water to proceed but (and I know I overuse this word) regardless, I gave Penwell to Hampton a try on October 11th with the Bloomsbury gauge showing 1.68 or 146cfs. There were some cancellations perhaps because the word got out but 4 of us in 2 kayaks and 2 canoes had a very nice day. The flow was really too low but we made the best of it on a warm sunny day and it turned out to be like a graduate seminar in river reading and boat handling.
On Columbus Day, October 13th, 10 of us in 9 boats tried Hackettstown to Mowder Road below Point Mountain. The flow was just a bit better (1.71, 154cfs at Bloomsbury) but it was still a real test of skill. Another nice warm day was in store but not much in the way of wildlife. There wasn't a good birding day amongst the three trips; a couple of osprey the first time, belted kingfishers and wood ducks the second and several red tails, a great blue heron, common mergansers, a lone phoebe and a small flock of yellow rumped warblers on the last. Of course, maybe having to concentrate on rock avoidance diverted my attention!
About the reference to "Drums Along the Mohawk" (1939 directed by John Ford with Henry Fonda and Claudette Colbert): we didn't see any Colonial re-enactors but with Grumann, Coleman and a variety of Royalex canoes and all shapes and sizes of kayaks plus my 12 foot wooden pole with metal ends we made a host of percussive sounds as we banged and scraped downstream. If we had any sense of rhythm, we might have produced something for the Smithsonian Archive. Thanks to the friends that came with me, especially those that came back like Henry Degenhardt, Chris Meyers, Mary Demmer, John Palubniak, Ken King and Lori Yost, who made all three.
Bob