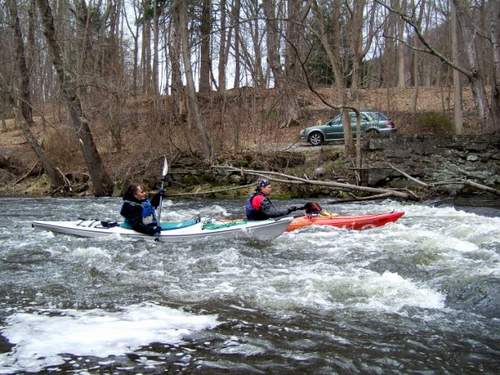 Flat Brook Adventure
by Bob Rancan
Saturday, April 4, 2009
Trip Coordinator: Bob Rancan
Photos by Jim More
Trip Participants: Martin Wellhoefer, Jim More, Phil Brown, Chris Meyers, Mike Cappizzi, Mark Grossman, Stu Bierman, Al Grenley, Ralph Dalo and Debbie Frikkers
The Flat Brook is a wonderful stream to paddle in the early spring. It is never really just a paddle though, it's an adventure. The distance covered is in the neighborhood of ten river miles but there is no rule of thumb to help figure out how much time it will take to cover that distance. There's the usual leisurely lunch, the briefer stop to play at the small white water feature, the typical paddling time, but also, there are variables: group size, the ability of members to exit and reenter boats in tough spots, downed trees to be sawn, climbed over, ducked under or carried around. It is a true multi-disciplined event. It probably requires some good cross-training during the winter to acquire efficient skills. I prefer winter walks on broken terrain where I can leave the path and duck and turn my way through the brambles. And then, there are the clothing choices: the "drysuiters" jump right in and cavort along the stream bottom while the "wetsuiters", wool and polypro wearers tend to be more conservative, better tree climbers.
On April 4, 2009 there were eleven of us in solo boats (4 canoes, 7 kayaks). It was a mostly overcast day, with temperatures maybe reaching 50 and strong wind gusts. The saving grace of the valley of the Flat is that the Kittatinny Ridge and heights above the Delaware hem it in. It's a narrow valley and the wind did not have much effect on our ability to navigate. In the deep woods, abandoned farm fields and narrow stream corridor there was a lot of wildlife to see. No bears this year but someone spotted a beaver and it was a decent day for birding, with a pair of hooded mergansers, many common mergansers, wood ducks, mallards, nesting Canada geese, a belted kingfisher, hairy and downy woodpeckers, female phoebes, cedar waxwings, chickadees, red wing blackbird males, titmice, great blue herons, turkeys, turkey vultures, red tail hawks and even a pair of bald eagles spotted by various members.
The trip takes time, can only be done with sufficient water and is best before trout season opens, but despite all this it is worth the investment and a must for all NJ paddlers. A word about the water level: it had been a dry spring but two rainy days during the week brought it up to a nice 226 cfs (2.84 ft.) as we began and although it dropped quickly it was still at 205 cfs (2.78 ft.) as we passed the Flatbrookville gauge. Over the last six years of checking the trips' readings I have found 2.33 to be so low as to be almost impassable and 3.30 to be a good, albeit rare, high level. Look for the 2.7 to 2.8 ranges for a fine trip.
Bob