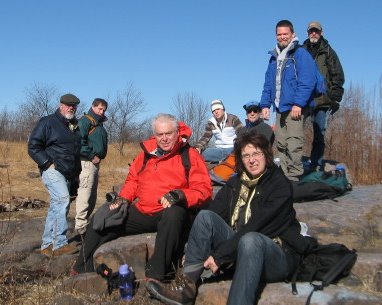 Hike: High Mountain
... 2 counties, 3 towns, 5 trails and a little more than 5-6 miles
by Jim More
Saturday, January 24, 2010
Trip Coordinator: Jim More
Trip Participants: Rick L., Phil B., Ken S., Niel S., Joanne & Marshall G., Dave & Greg M., and Jim M.
Photo: Phil Brown
The High Mountain Park Preserve is located just a few miles from the very urban downtown Paterson. Purchased by the State of New Jersey, Wayne Township and The Nature Conservancy of New Jersey in 1993, this 1,000+ acre Preserve lies on Preakness Mountain, formed by lava flows during prehistoric periods. Most of the park is in Wayne, but parts are in North Haledon and Franklin Lakes, bridging Passaic and Bergen county. The jewel of the Preserve is the summit of High Mountain with an elevation of 885', magnificent views and it boasts, of all things, pear cactus that's normally found in the desert.
It was a sunny and windless day in the upper 30's. At 9:30, nine of us set out on the little-used trails on the western end of the park to make our "summit assault" from the north-west. Having grown up in the shadow of High Mountain, I'd make countless hikes to the summit but until just recently, never from the west following this rather circuitous route. The usual shorter route is from the William Paterson University trailhead. Shortly after starting out, there is a western overlook where we could see the Point View Reservoir and out to the west as far as Parsippany and Riverdale. The trails are very varied, from fire roads (dirt bike trails), to game trails, to gullies and dry stream beds. The marked trails are crisscrossed with unmarked trails making it easy to find ourselves on a trail, but not on our trail. There were also some steeper climbs and descents on loose rubble and many steams to cross. We had lunch at the summit and enjoyed the magnificent view stretching to the south from Garret Mountain, Staten Island, the Verrazano-Narrows Bridge, Manhattan and all the way north up the Hudson River to (maybe) Bear Mountain. Even though there was some haze, thanks to Phil bringing two pairs of binoculars, there was lots to see.
We arrived back to the put-in....I mean trailhead about 3:15. The hike was just about 4-1/2 hours of hiking and about 9 miles, a little over the "advertised" 5-6 miles.
An interesting hike with great views, great company and great weather!
Jim