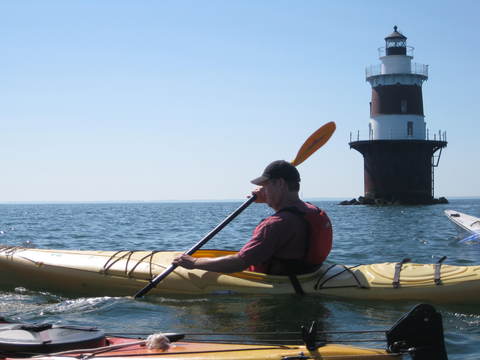 Saugatuck River Inlet
by Betty Wiest
Sunday, August 29, 2010
Nine paddlers (7 guys and 2 gals) signed up for this half day trip—all enthusiastic, and most of us new to this river.
We met at the Palisades Center in West Nyack which makes it easier to caravan. Ralph discovered that an accident had occurred on Rt. 95, so we took the Merritt Parkway connecting with Rt. 7 South, then 95 to our Exit. Interestingly, the launch was right underneath 95---it just took a short, round about route to get there once we left 95. (Thanks, Jim Moore for telling me about this launch—and no fee!). We were just a bit east of Norwalk, CT.
There was plenty of parking early in the morning under the superhighway; when we returned drivers were waiting for spaces as if it were December when everyone is jockeying for a parking spot.
It was low tide at 9:30 in the morning, but that did not affect our ability to launch off the concrete pad. We were greeted by four beautiful swans preening just yards away.
It was an absolutely beautiful day. As we made our way down the river, we passed many exquisite homes—large rambling structures with rolling lawns, many with their own private docks. Because of low tide, we were able to see the Sound bottom and some of us actually hit the sandbars because of it. In the stretch of water between the mainland and Cockenoe Island we were able to enjoy seeing the bottom many times; at one point I placed my paddle straight down and measured a good 3 feet. Alas, I was thinking about doing a wet exit but all the stuff in my deck bag was better off dry.
We paddled around Cockenoe Island and then around a lighthouse not too far away where everyone gathered for a picture with the lighthouse in the background. Making our way back to the island, we encountered a couple who had anchored their boat and were playing with their dog fetching some object. It was time for lunch so we found a nice spot to rest; some of us even took a swim. It seemed to be the place for many leisure boats to anchor.
By the time we got back in the water to head back, a good bit of boat traffic made the water a little choppy but we were all able to make our way across the channel and up the river without any mishaps.
We were all back at the launch by 1 p.m. with plenty of time left to get to all those household chores we save for Sundays.
Betty